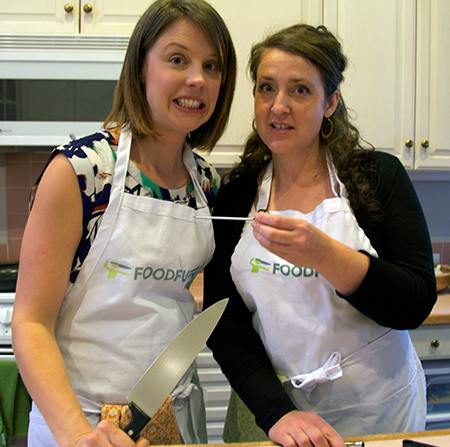 We had to travel the whole way to the East side of Bend for this battle since it was at Brett and Carolyn's house. Ugh! When we lived in Phoenix a drive of at least an hour was the norm when we visited friends. Now in Bend we have to drive a whole 15-20 minutes and we get all sad! But their house is beautiful and has some really great views of Mt. Bachelor and the Sisters mountains so it was worth the "drive."
This was one of our bigger home cooking competition battles in terms of total number of people: Carolyn and Kathleen were chefs, Jeff and Brett were judges (and shared the emcee role), and Lisa and me as spectators. Now this is the kind of battle I can get into! I don't have to be a chef and there's no pressure for me being a judge! I just get to hang with great friends, drink some very special beer (Matt's Burning Rosids, 5/5 stars, would drink again!), and eat great food. What else can you ask for? This is what makes FoodFu such a great app (in my humble opinion!): there's a place for everyone and everyone will have an awesome time! Now let's get to the action!
Oh wait! There is one more thing I forgot to mention. This is the first time we had some shenanigans with photos. You'll notice Jeff looks exactly like Gordon Ramsey.
Who participated in Battle Pork Chop?

I can't remember why Pork Chop was chosen. Hey, what can you expect from me? I'm the software geek of the operation! I am not properly equipped to plan social situations!
I think Carolyn and Kathleen decided on it together as something they wanted to use. It's kind of funny but Kathleen had only cooked pork chops one other time. She was really up for a challenge! If you grew up like me then your view of a pork chop was something grilled and served as a meat and potatoes type thing. So I was excited to see what they created!
The chemistry between Jeff and Brett was one of the many things that made this FoodFu battle really fun. Even though Brett started out as emcee, Jeff stepped in as needed and really did a great job. It felt like an NFL game being commentated by John Madden and Pat Summerall! Brett and Jeff really played off each other and made the emcee part doubly fun! "Call in the dogs, put out the fire, this hunt is over! – John Madden" (google it!)
What did the chefs make to highlight pork chop?
So not a big surprise: both chefs made pork chops! But the way they made them was very different. And that's what was really exciting to see. Like I said before, when I had pork chops growing up it was a standard grilled pork chop with salt and pepper. What Carolyn and Kathleen made was globally inspired and very different!
Chef Carolyn made an Italian breaded, bone in pork chop served over an arugula salad dressed with a lemon vinaigrette and topped with a Parmesan crisp.
Chef Kathleen went with a Cuban theme and made a thick pork chop with a soffritto and mojo sauce, mashed potatoes and fresh salsa salad. In case you are wondering what soffritto is, it is simply a combination of three key ingredients: celery, onion and carrot.
Watch battle pork chop unfold:
The plates for FoodFu Battle Pork Chop: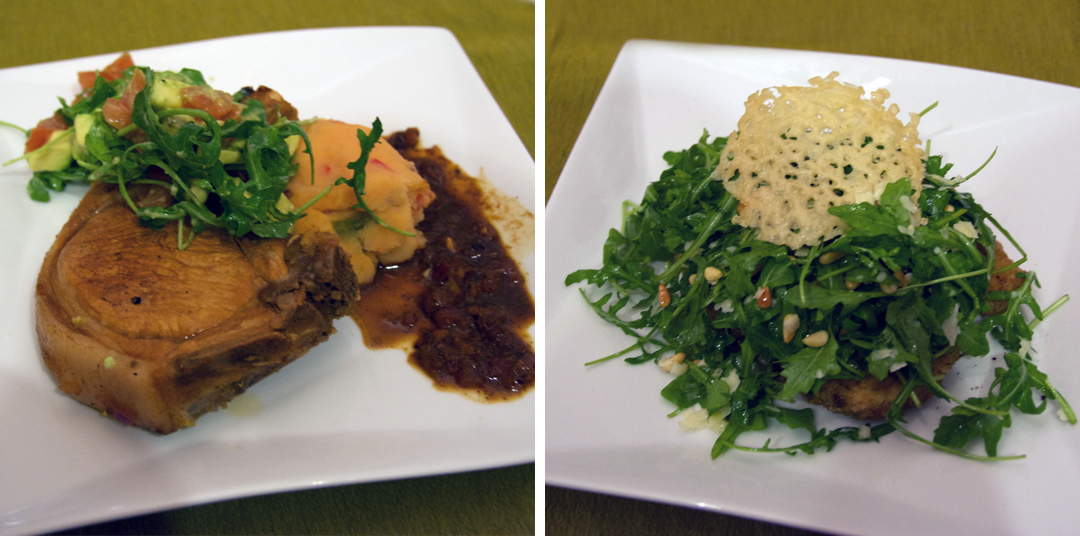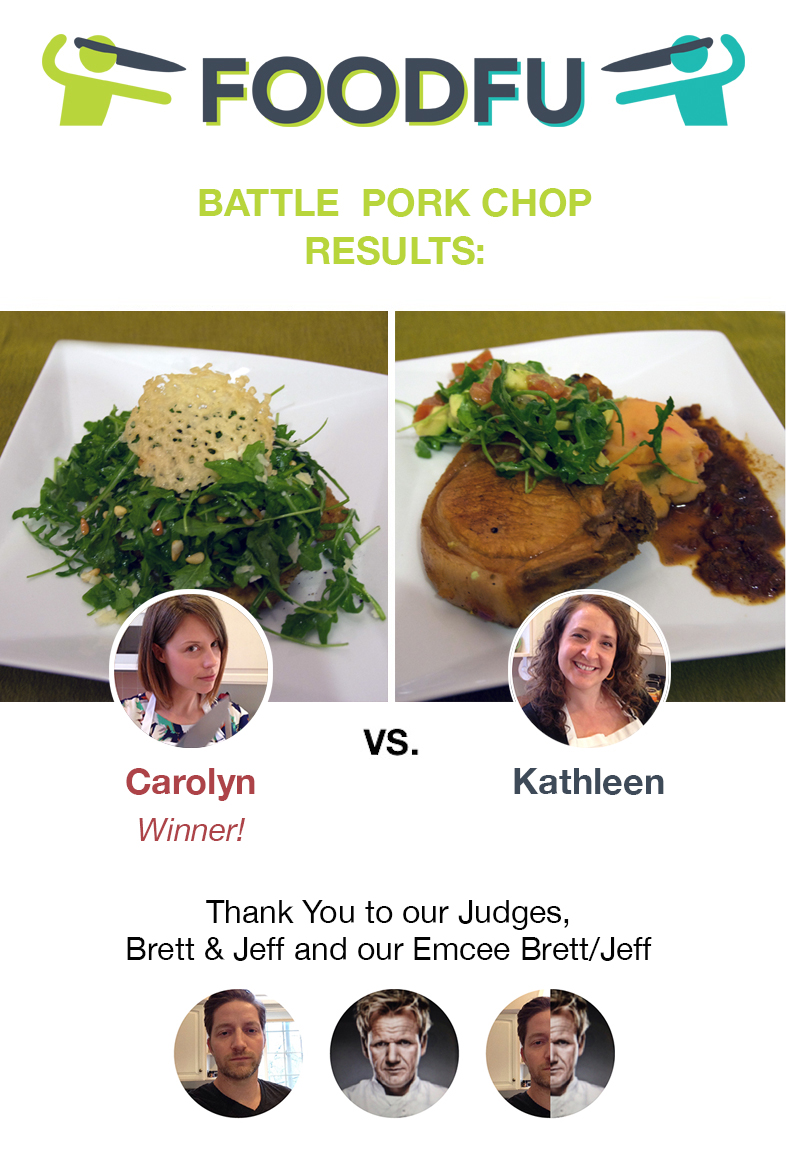 I've said it before and I'm sure I'll say it again: I am glad I didn't have to judge these dishes! You could see in both Brett and Jeff that they were under some serious pressure! Both dishes were thoughtfully plated and delicious.
So this is something that I find really interesting about Foodfu. Usually when you get at least 4 people together it's 2 couples. And you have some combination of chefs and judges that will add some complexity to the judging process. I mean, who wants to have to judge "against" their significant other?
Some people have said this is something FoodFu needs to help with. I actually think it's just an additional wrinkle that is added to the game. Just like playing Pictionary or whatever, you have to deal with inter-relationship complexities! If you have some other opinions please let us know, we really want to make the FoodFu app great.
You can see that Carolyn won but I feel like it was a very close battle. In the end, I think it was the overall cohesiveness of Carolyn's dish that sealed the deal. But having tasted them both myself I can say again: this was a tough decision! I really liked the potatoes and sauce that Kathleen made. They really complimented the pork chop. And Carolyn's arugula salad topped with a crisp cheese cracker really helped balance out her pork chop.