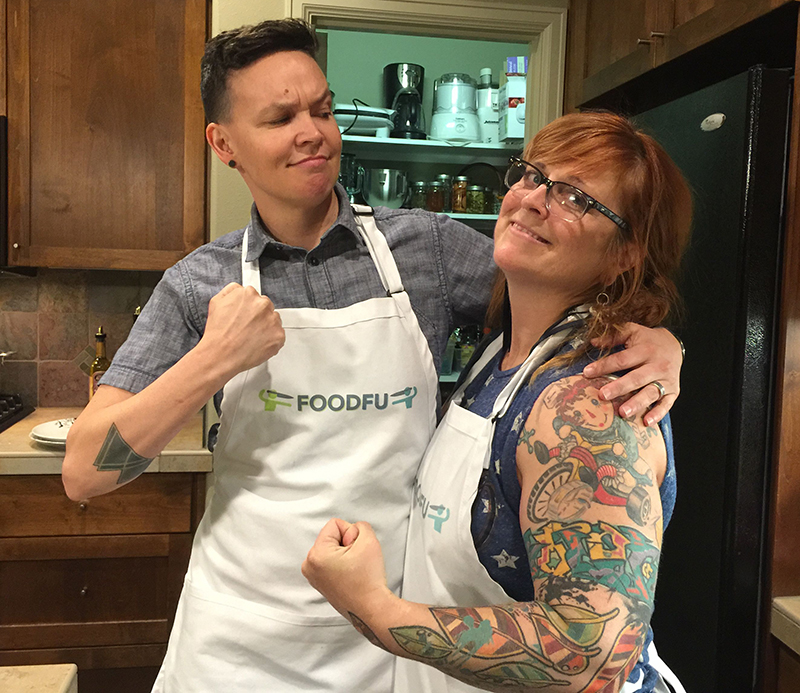 What happens when you invite a professional cook to compete against a home cook in a food fight? Well, besides the kitchen heating up, things get pretty interesting. This is the first time anyone has asked us not to tell them what the featured ingredient was until they arrived. I bet you can guess who asked for that. Yep, the professional chef. We shouldn't have been surprised that the bright and talented master mind behind the delicious food at Sunny Yoga Kitchen, Amy Wright, wanted a culinary challenge. So which home cook did we find that had enough gumption to compete against Amy? We found Heather TenBroek, an energetic yogi and broker from Allison James Real Estate.
Who participated in Battle Asparagus?

It was so exciting to watch these two great cooks in the kitchen doing what they love. Heather brought a bunch of her own kitchen tools like a food processor and blender as well as a couple recipes to hopefully give Chef Amy the knockout punch. Amy brought some of her own ready-for-anything tools and ingredients since she didn't know what the featured ingredient was. But I think she had a plan in mind for just about anything.
Our evening was lead by our vibrant emcee, Courtney (she's a yoga instructor and co-owner of Sunny Yoga Kitchen). With the help of the FoodFu app, Courtney interviewed everyone and we learned some interesting nuggets:
Amy has a love of Italian cuisine and worked in an Italian restaurant
Working in an unfamiliar kitchen makes preparing food more difficult
Heather's husband loves bacon so she decided to include it in battle asparagus
Courtney kept the pressure on the chefs throughout the battle. She kept shouting out the remaining time and we were all on the edge of our seats. Amy finished with a smile and some time to spare while Heather used every last second! We weren't sure she was going to make it!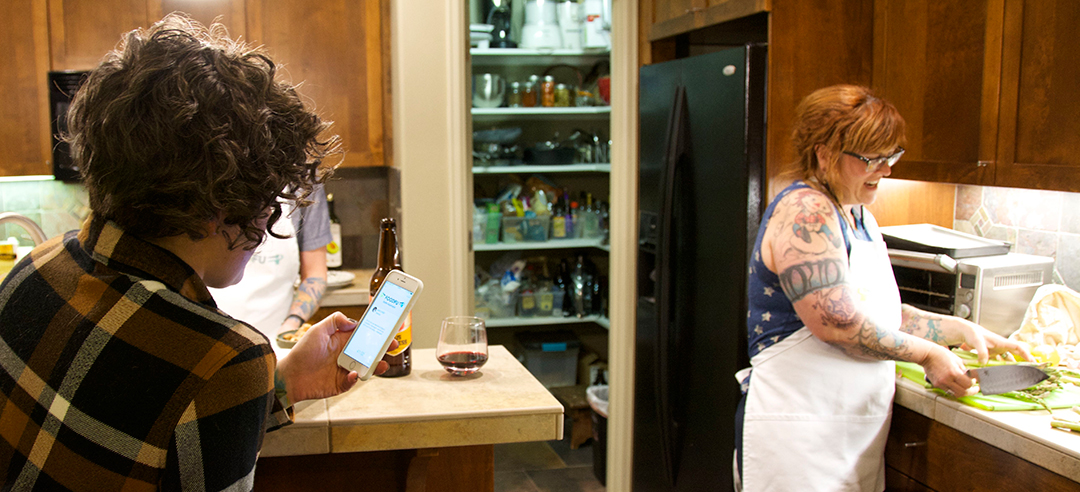 What did the chefs make to highlight asparagus?
Amy made Uova da Raviolo, which are large Italian raviolis filled with a ricotta cheese mixture and an egg yolk center. The Uova da Raviolo were topped with shallots, asparagus, fried sage, capers, and goat cheese. Amy created a little magic with those egg yolk centers. When you cut into the raviolo the yolk is broken and the bright yellow, gooey center oozes out and mixes with the other ingredients to create a harmonious sauce. Yum!
Heather whipped up a creamy soup with asparagus, chickpeas, shallots, ginger, garlic, mint and bacon. She topped her velvety soup with a lime, tarragon and olive oil drizzle. Additionally, Heather wrapped asparagus with bacon and covered it in a lemony bearnaise sauce she made from scratch. The soup was rich and satisfying and the bacon wrapped asparagus was a great pairing.
Watch battle asparagus unfold:
The plates for FoodFu Battle Asparagus: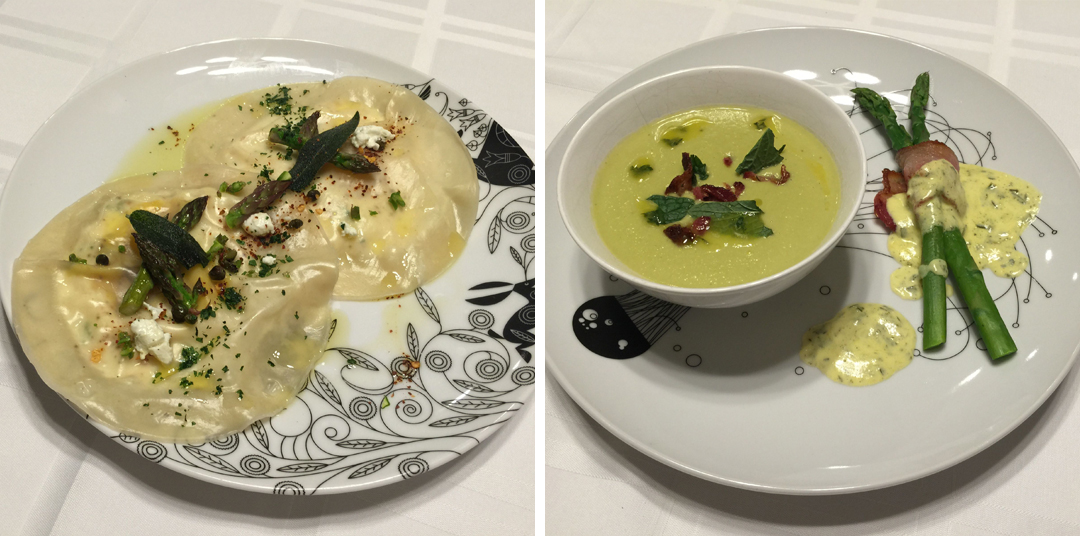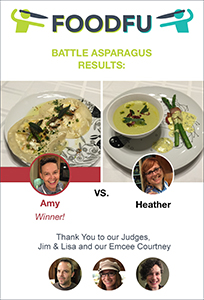 In the end it was very hard to choose which plate won. I think Courtney was relieved she was the emcee and didn't have to decide!
Amy wowed us with delicious, delicate flavors and her egg yolk theatrics. While Heather wrapped our palates in a warm, creamy asparagus and bacon blanket. As you can see from the image on the right Chef Amy's Raviolo won. Amy did a great job highlighting the featured ingredient and made something that was really fun to eat. Heather's only fault was that by adding bacon to her dishes she overpowered the flavor of the asparagus. If it wasn't for that I'm not sure what the outcome would have been!
If you are in Bend, Oregon stop by Sunny Yoga Kitchen, we've heard you just might find Amy's Uova da Raviolo as a special!!!