What a crazy week! On Monday I received a call from reporter Erin Rook from The Source Weekly in Bend, Oregon. The call was a surprise because we hadn't publicly launched FoodFu, our real life kitchen game app, yet. Erin asked a lot of interesting questions. He wanted to know how we got the idea for FoodFu, what kind of background Jim and I had to be able to create an app and how long it took us to build FoodFu. I enjoyed sharing the FoodFu story until Erin asked the last question, "When will FoodFu be available in iTunes?" Ugh. I hated that I couldn't give a date. FoodFu was sitting in a review cue in iTunes and I had no idea if and when it would be approved. I had to say the dreaded words that mean nothing, "I don't know."
FoodFu was sitting in a review cue in iTunes and I had no idea if and when it would be approved.
On Tuesday I had to work for a client. I was on a conference call discussing project statuses when Jim walked into my office and whispered, "FoodFu was moved into review by iTunes!" I was elated and a little terrified. A small part of me worried that we'd be rejected and in this endless iTunes review loop forever. I moved through the rest of my work day trying not to get my hopes up too much. At 4:15 pm Jim received a notification from iTunes. Jim and I stared at each in excitement and fear and were a little scared to read the email. Two years of work lead up to this pivotal email on a Tuesday afternoon in June. We couldn't handle the suspense so Jim clicked on the email and we were approved! Jim and I stared at each other with big fat grins, hugged each other tight and then high-fived. We did it!
I called Erin at The Source Weekly the next morning and left him a message with the great news. At 11:05 am I received a Google alert (Google alerts let you monitor the web for specific content) for the keyword "experiential app."  Holy crap! The link was about us! Our article was already published by The Source Weekly. You can read the full story by Eric Rook here.
Holy crap! The link was about us!
The Source Weekly article is great! I'm still in disbelief that our local paper was interested enough in our app to write about it before it was even public. This makes me feel so good about FoodFu. Jim and I are so excited about sharing this app with the world. We know it is so much fun to play and we want friends and families to come together and experience that fun too!
In case you were wondering…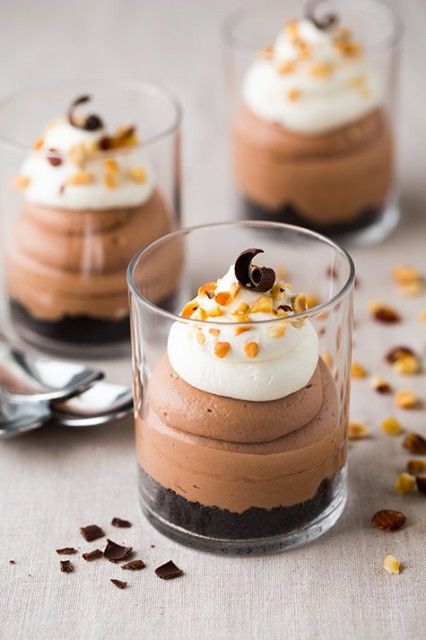 After you read The Source Weekly article did you want to know what kind of Nutella cheesecake I made to beat Jim at FoodFu? I made a Nutella Cheesecake Mousse over a crust of crushed Oreos. It is a super easy recipe and seriously delicious. I licked the bowl after I kicked Jim's butt at FoodFu! Here is the recipe, it's perfect to make for a dinner party because you can make individual portions ahead of time. Bon Appetit!
Nutella Cheesecake Mousse photo courtesy of Cooking Classy.