Looking for something fun to do with your family or friends? Learn how to play Chopped at home!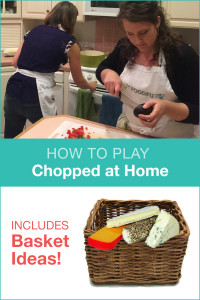 It's pretty simple. All you need is 4-5 people, a kitchen, two baskets and ingredients. If you are worried your kitchen isn't big enough we've played in a tiny Portland kitchen, so chances are you have more than enough space. If you don't have enough counter space have one person do their prep work on the kitchen table.
Next you have to decide if you want to DIY the game (come up with your game rules, figure out how to score judging, decide on the time limit, etc.) or you can make things simple and download the FoodFu app, it's free! FoodFu will do all the hard work for you so you and your friends focus on the fun part, cooking and judging! FoodFu even gives you fun question so you can interview your friends like you are Ted Allen.
You do have one big decision to make. What are you going to put in the baskets??? Remember, most likely your friends aren't professional chefs. Giving them a basket with liver, strawberries and brussel sprouts will only hurt the judges. Chances are if you put together a basket of friendly ingredients your friends will still be under the gun. When was the last time anyone plopped four ingredients in front of you and said, "you better have dinner ready in 45 minutes." If you are having trouble coming up with basket ingredients we've listed some fun ideas for you.
Kitchen Hack: If you don't have baskets use 2 large bowls and a towel to conceal the "basket" ingredients.
Chopped at Home Basket Ideas:
Basket Idea #1
Pizza Dough
Sun-Dried Tomatoes
Mushrooms
Basil
Basket Idea #2
Burrito Shells
Black Beans
Avocado
Tomatillos
Basket Idea #3
Rye Bread
Any kind of Cheese
Apple
Mayonnaise

or

Mustard
Basket Idea #1
Tofu
Parsnips
Curry
Nutritional Yeast
Basket Idea #2
Chicken Thighs
Whipping Cream
Tarragon
Grapefruit
Basket Idea #2
Pork Chops
Pine Nuts
Greek Yogurt
Leeks
Now that you know how to play Chopped at home we'd love to hear about your experiences. What was in your basket? Did you DIY the experience or play with FoodFu? Let us know in the comments.